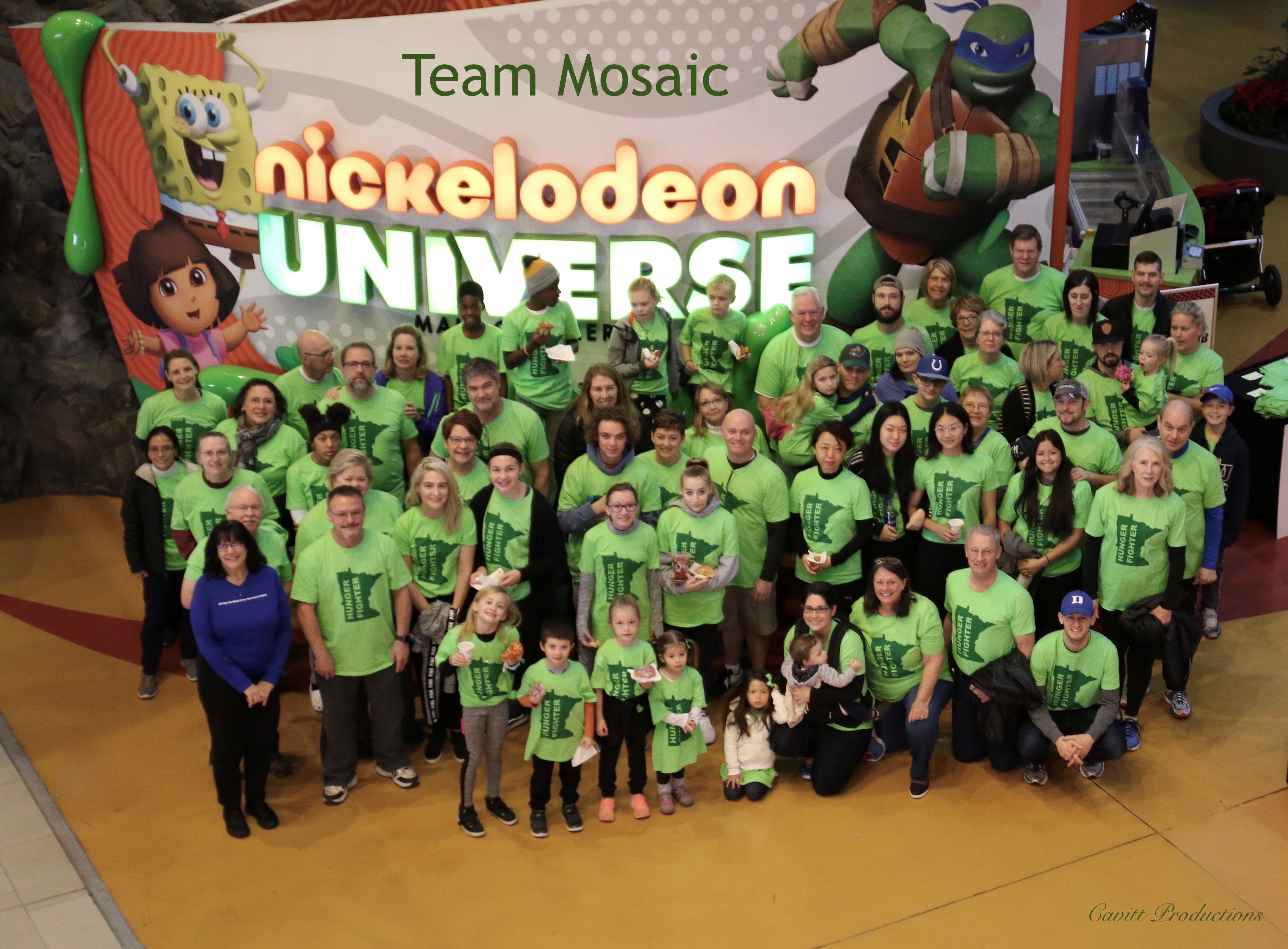 Join your colleagues and invite your family and friends to be a part of Team Mosaic to "give back before giving thanks" on Thanksgiving morning, November 28th. 
Mosaic, participating since 2010, proudly supports the Walk to End Hunger! Together we'll walk inside the Mall of America to support hunger relief for the 1 in 10 Minnesota families facing hunger in our urban, suburban and rural communities. 
The Walk to End Hunger route is six laps around the first floor of the Mall of America. Activities and entertainment will take place at 4 locations along the walk, and Santa will be there too! Participants are welcome to walk as much or as little as they would like. Walkers are not required to finish all six laps, and there is no closing ceremony. Registration and Check in starts at 7:00am, the walk program starts at 7:30am. 
Mosaic is also a proud sponsor of Team Mosaic, donating $100 per walker registered to the team. 
To join Team Mosaic, click "Join Team" on the right and enter the code you received by email. Please register by Friday, Nov. 17th (additional details will be sent after registration). T-shirts will be distributed the week of the walk in the office. 
Support a great cause, with plenty of time to get home to enjoy Thanksgiving with your friends and family! 
Bri Paul

ERIN BARNHART

MIKE BUTCHER

HARVEY DAHL

RACHEL DAHL

LAUREN DAHL

GRANT DAHL

ELLA DAHL

JULIA DAHL

LILLY DAHL

MATTHEW HARRIS

MEAGAN HARRIS

AUDYN HARRIS

DANE HARRIS

RUBY HARRIS

LINDA MURRAY

VANCE MURRAY

JARED PIPPIN

WENDY PIPPIN

PARKER PIPPIN

LUCY PIPPIN

LUKE PIPPIN

PAIGE PIPPIN

GLENN TANNER

KIRSTEN HARRIS

BEN TANNER

GRANT TANNER

HANNAH TANNER

MADDIE TANNER

KATE MURRAY

LAUREN MURRAY

LINCOLN MURRAY

Cooper Herges

JANESSA REESE

JEREMY REESE

Xander Herges

AVELY REESE

Annie Herges

HAZEL REESE

KAYLA REESE

PRESTON REESE

EMILY SANDERS

KIRK SANDERS

SUSAN SANDERS

Linda Langman

Al Langman

CARMIA KOHLER

Parker Hanson

BEKKI ANDREWS

Amy Tollefson

Kevin Tollefson

Betty Tollefson

Linda Munch

Craig Munch

jace codington

scott dehm

marlene dehm

emma dehm

owen dehm

adam dehm

steve richards

amanda richards

danielle massie

jodi ladd

sean ladd

lee Ching

Chad Sherman

Stanley Marczak

Kim Lemke

Bobbye Lemke

Stan Marczak

Katie Marczak
0
days
0
hours
0
mins
0
secs
Our Supporters
There are no recent supporters to display.
There are no top donors to display.